Veneto-Flamouri monastery-Sourvias monastery
Veneto-Flamouri monastery-Sourvias monastery
Long Pelion Trail

Veneto
Flamouri monastery
Sourvias monastery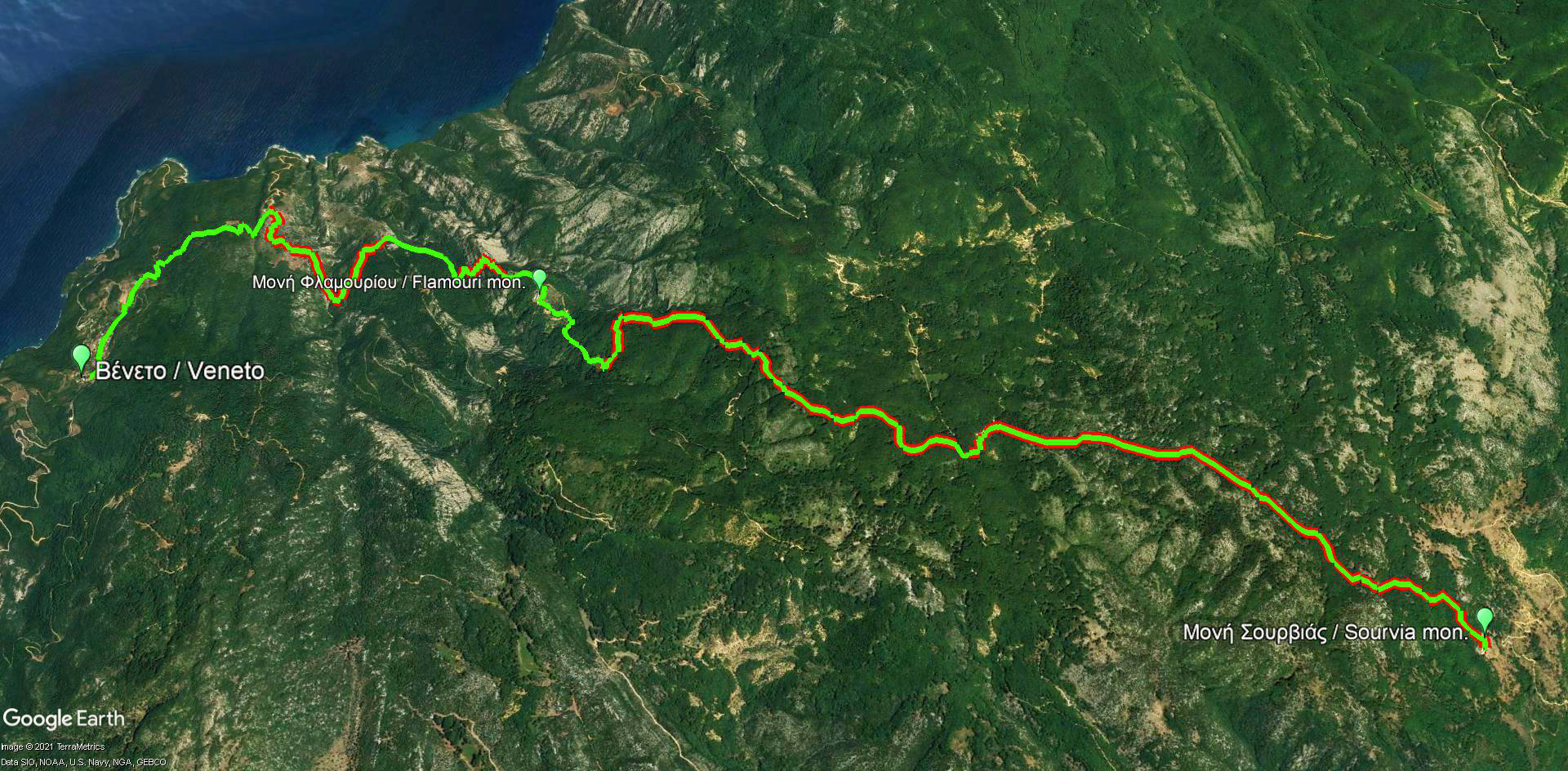 ×
Section name

Difficulty

Length
m
Ascent
m
Decent
m
Maximum
elevation
m
Minimum
elevation
m
Time
h
Veneto-Flamouri monastery-Sourvias monastery
2/5
14361
932
455
963
208
6-7


×
Veneto and Makrinitsa demarcate the northernmost zone of Pelion, indicating two contrary features of the area: the abandoned foothills of Pelion and Kissavos, where Veneto is hidden, and the bustling stone alleys of Makrinitsa, which offers a splendid view to the basin of Volos. What lies between these two distinct settlements is a desolated and wild land. The only two sites where one can find shelter are the monasteries of Transfiguration of the Saviour and Holy Trinity, mostly known as Flamouriou and Sourvia monastery respectively.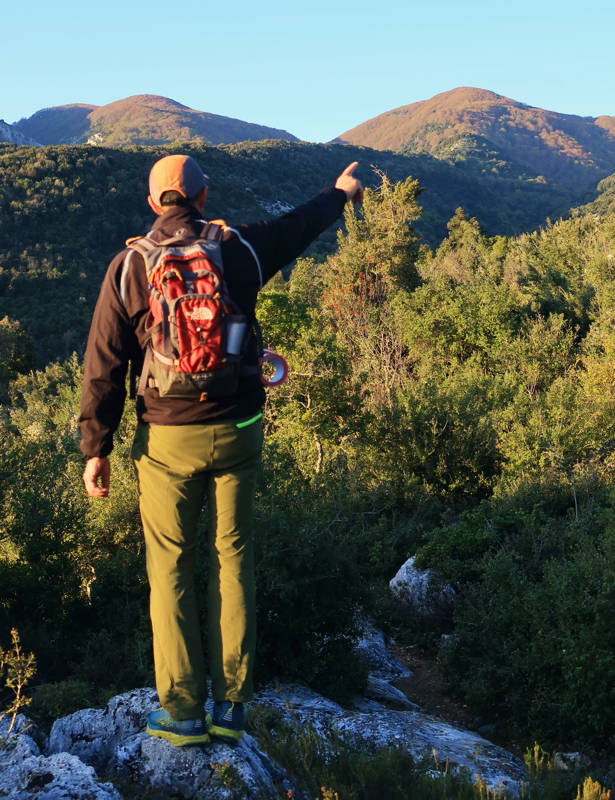 The old trail was following the steep uphill from Veneto to Flamouriou monastery. This great monastery of Northern Pelion has been reconstructed and today hosts a community of monks with strong interest not only in spirituality but also in agricultural activities. After we pass by the monastery, we start hiking through a high and great forest of beech until we reach, downwards, the remote monastery Sourvias.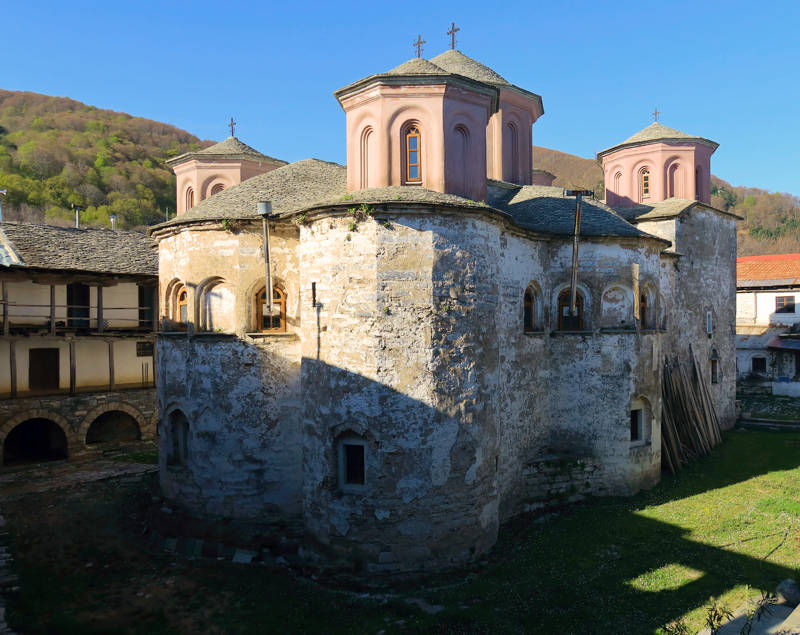 Depending on the physical abilities and courage of the group, the daily hike can stop here and the hikers can camp overnight, next to the spring and very close to the monastery. Alternatively, a more experienced and well-prepared team can go on towards Makrinitsa. Then, the long, demanding connection, from Veneto to Makrinitsa is complete and it's definitely worth trying.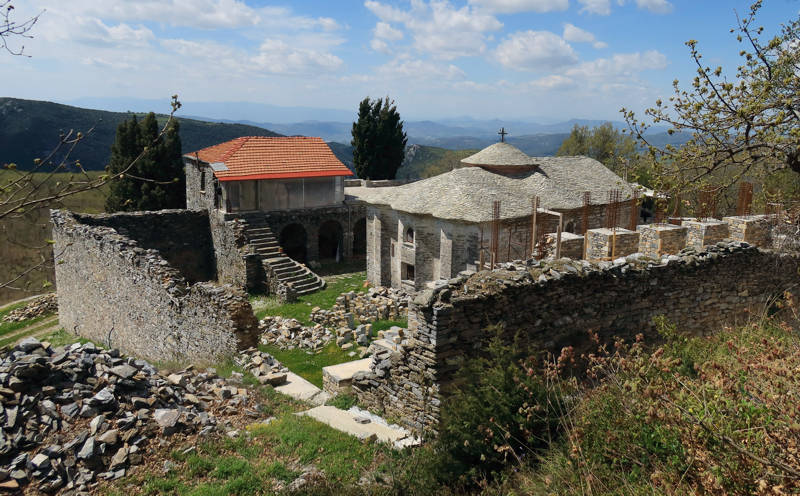 Text: Aik. Zagaretou, photos: T. Adamakopoulos
Walkability chart-Warnings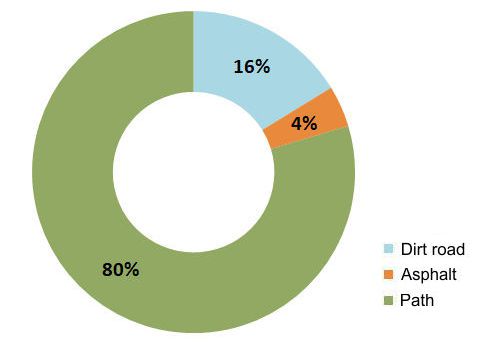 Most of the route follows a clear path, which in some places is a well-built cobblet pathway. Older waymarking efforts have left some marks and some signposts.
The length of the route is 14.4 km and can be done in 6-7 hours.
Long Pelion Trail topoguide
The best escort on Long Pelion Trail is the guide Long Pelion Trail topoguide, a member of the Long Trails group of the app topoguide Greece, available for Android devices via the Google Play Store.

The guide Long Pelion Trail topoguide is also available for iOS (iPhone και iPad) devices via the app Topoguide Greece, as a member of the Long Trails group.

The application offers active navigation along the trails, as well as a concise guide on the geography, the nature and the culture of Mt Pelion.