Discover Mani: Tenaron area
Discover Mani: Tenaron area
Discover Mani: Tenaro area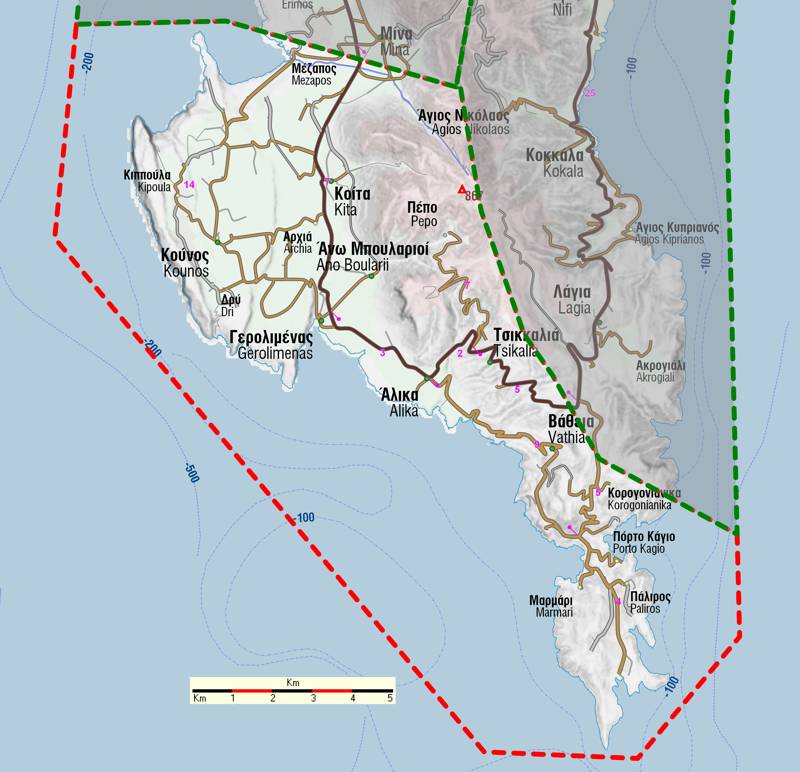 Between the coves of Mesapos and Gerolimenas - the two small yet precious ports of Mesa Mani- rises the inaccessible mass of Kavo Grosso, which owes its birth to two parallel faults. The crest of this limestone block forms an extraordinarily rocky plateau, a true natural fortress that hosted and protected local people in both ancient times and the Byzantine period.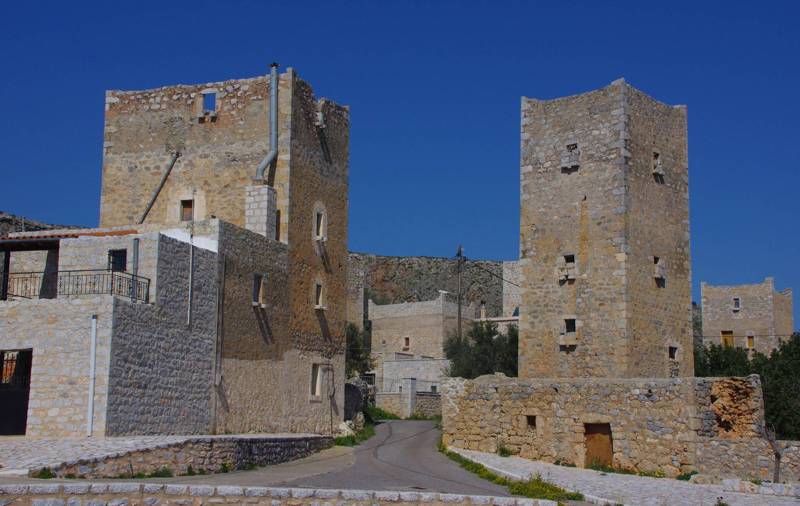 South of Gerolimenas, the characteristic topography of western Mani appears again: between the base of the mountain and the rocky shore lies a sloping plateau, reaching as far as Alika. Further south, Mt. Sagias falls steeply down to the sea, yet maintaining some accessible valleys, such as the one that hosts Vathia. The relief then becomes very steep, forming large cliffs, up to the neck of the Tenaro peninsula.

The Tenaro peninsula, the last phalanx of the middle finger of the Peloponnese, has a simple and relatively smooth terrain: from its essentially single-peaked mass, erosion created a mild landscape with 2-3 peaks and ravines, that end up in deeply shaped bays. The highest peak (Skourka, 314 m) is located approximately in the geometrical center of the peninsula, north of the small Mianes plateau.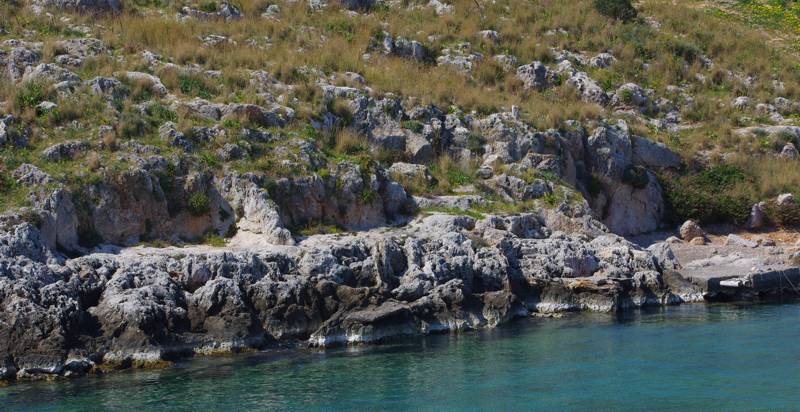 Due to the prominent location of Tenaro on the sea, Cape Tenaro has always been a frightening marine passage - a dangerous place for the wooden boats of the antiquity. To the east of the cape, Porto Sternes bay offered a safe refuge and was gradually outfitted with a remarkable sanctuary dedicated to the god of the sea, Poseidon, the necessary water collection facilities and some lodgings - all carved into the rock.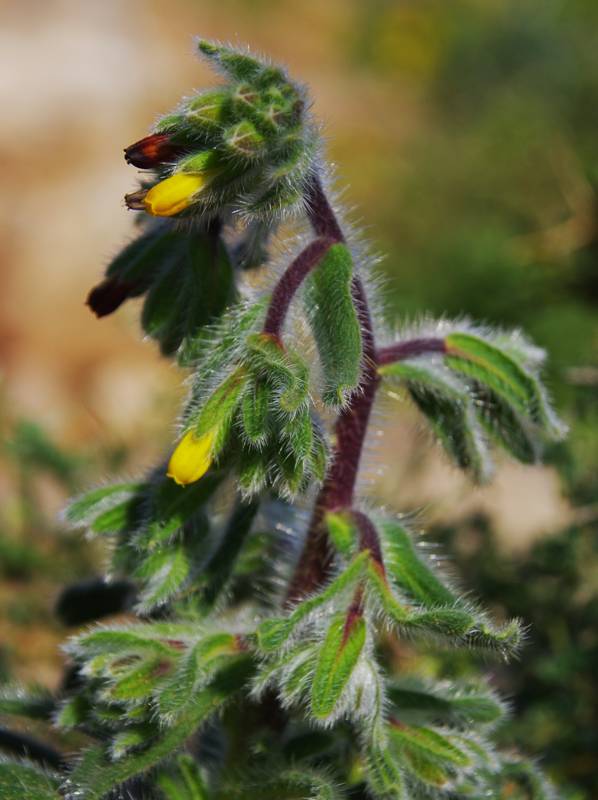 Η γεωγραφία της νότιας άκρης της Μάνης επιτείνει την βιογεωγραφική απομόνωση που βορειότερα έχει δημιουργήσει τις κατάλληλες συνθήκες για την εξέλιξη ιδιαίτερων χλωριδικών στοιχείων. Έτσι, στο Ταίναρο θα βρούμε ακόμα περισσότερα τοπικά ενδημικά φυτά, που μαζί με την ιδιαίτερη πανίδα της Μάνης και τις τοπικές εκπλήξεις του τοπίου, συνθέτουν ένα εξόχως ενδιαφέρον φυσικό περιβάλλον.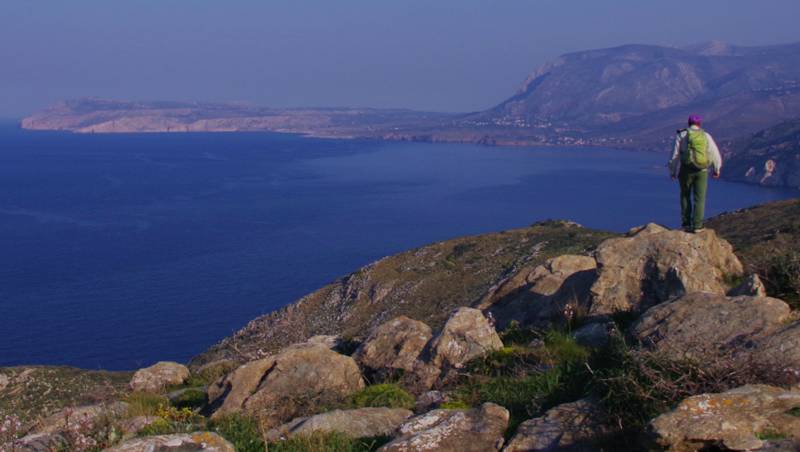 In this wild place, the geometry of the old paths has suffered just a few losses from the development of the road network. Due to the very dry conditions, the vegetation - which has flooded the trails further north - is expanding very slowly, so the hiker will find the trails clearer and more obvious. More about hiking in Tainaro on the page Hiking in Tenaro.
Text and photos: T. Adamakopoulos

topoguide Greece
Self-guiding in Mani peninsula
The guide Tenaro topoguide offers a consise guidebook for all important elements of the history, the landscape, the nature and the civilisation of Tenaron area.

Tenaro topoguide is available for Android devices as one of dozens of regions of Greece offered by the application topoguide Greece. Get the Tenaro topoguide as an in-app purchase.

Tenaro topoguide is also available for iOS (iPhone και iPad) devices as one of the regions offered in the hiking application Topoguide Greece. Get the in-app purchase Tenaro topoguide and explore Mani peninsula.