Discover Mani: the Avia district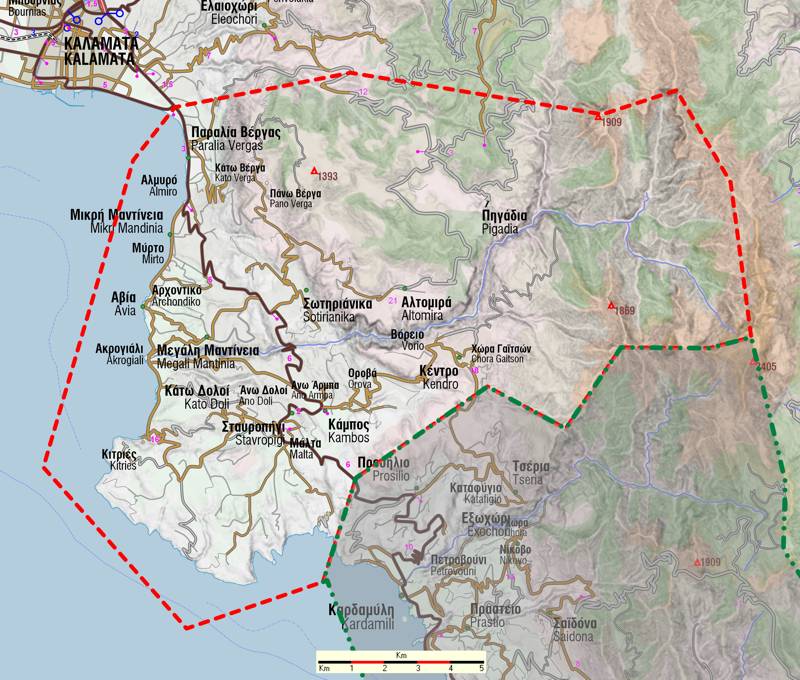 Avia district stretches from Kalamata up to Kardamyli, being a large unity between the coast of Messenian Gulf and Mt. Taygetos.
Despite the proximity to the sea, the natural landscape is dominated by mountain elements. On the contrary, the cultural landscape is focused in the coastal zone, even though this is almost entirely rocky and harbourless. Therefore, the approachable though manifold sea front from Paralia Vergas up to Kitries is a continuous inhabited zone, being the resort of the rich and populous eastern Messenia. The main settlements, Almyro, Mirki Mantineia, Archontiko Avias, Paliochora Avias and Akrogiali are connected via interim sparsely populated areas, which often bear the family names of old landowners.
The center of the area is dominated by Kambos, an old important village, surrounded by many mountainous and semi-mountainous villages, the most notable being Sotirianika and Altomira.
Text and photos: T. Adamakopoulos

topoguide Greece
Self-guiding in Mani peninsula
A detailed presentation of Avia area is included in Avia topoguide.

Avia topoguide is available for Android devices as one of dozens of regions of Greece offered by the application topoguide Greece. Get the Avia topoguide as an in-app purchase.

Avia topoguide is also available for iOS (iPhone και iPad) devices as one of the regions offered in the hiking application Topoguide Greece. Get the in-app purchase Avia topoguide and explore Mani peninsula.