Hiking in Avia
Thanks to the steep terrain of Avia, the old roads between the coastal zone and the mountainous settlements, which maintained close relations with their lowlands cousins, have been preserved. These old roads were recently organized on a hiking trail network.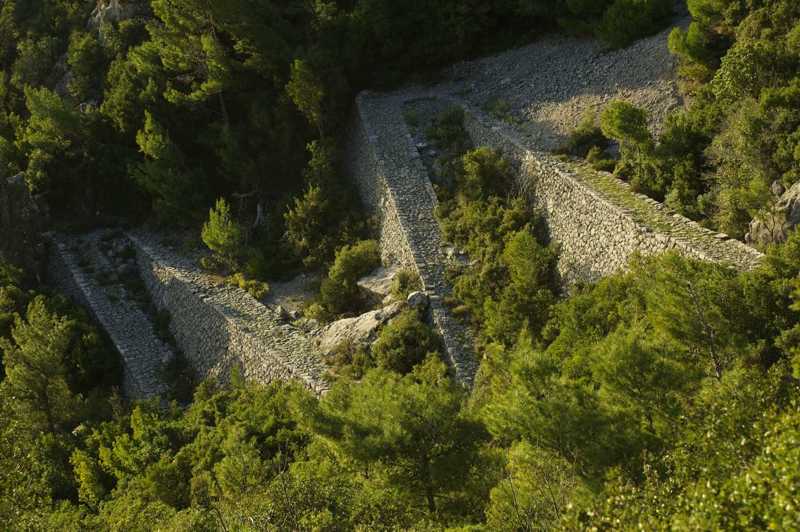 Hikes near Verga
On the steep slopes between Kato and Pano Verga and up to the peaks of Mount kalathio, where Pano Verga kept its mountain pastures, a remarkable network of paths is maintained. Interestingly, these paths can be made in a serial way, composing a long crossing from the coast to the isolated - and now deserted - village of Pigadia, at the gates of Mt Taygetos.

Kato Verga-Ano Verga
(L= 4691 m)

Ano Verga-Profitis Ilias summit
(L= 2897 m)

Ano Verga-Pigadia
(L= 10356 m)
Hikes around Kambos
Another group of hikes have been preserved around Kambos, the main village of Avia. The most important of all these old pathways is Bilivos, the stunning stone-built path from Sotirianika to Altomira, a true work of art and technique. Other very interesting paths are the connections between Sotirianika and Orova or Kambos, as well as the crossing between Abia and Kardamyli (Malta-Kardamyli trail).

Sotirianika-Altomira
(L= 5513 m)

Voreio-Pigadia
(L= 7525 m)

Sotirianika-Orova
(L= 4440 m)

Kambos-Sotirianika
(L= 5558 m)

Charavgi-Mikri Mantinia
(L= 2659 m)

Malta-Kardamyli
(L= 7069 m)

Sotirianika-Agios Georgios monastery
(L= 3790 m)
The great crossing of Avia
A long course of two-day trekking is Avia's mountainous crossing, from Armitsa to Pigadia and then via the Koskara Gorge to Sandava beach.

Armitsa-Pigadia
(L= 8241 m)

Koskaraga gorge
(L= 15847 m)

topoguide Greece
Self-guiding in Mani peninsula
All above trails are included in Avia topoguide.

Avia topoguide is available for Android devices as one of dozens of regions of Greece offered by the application topoguide Greece. Get the Avia topoguide as an in-app purchase.

Avia topoguide is also available for iOS (iPhone και iPad) devices as one of the regions offered in the hiking application Topoguide Greece. Get the in-app purchase Avia topoguide and explore Mani peninsula.