Makrinitsa-Agios Onoufrios-Stagiates-Portaria-Chania
Makrinitsa-Agios Onoufrios-Stagiates-Portaria-Chania
Long Pelion Trail

Makrinitsa-Agios Onoufrios
Stagiates-Portaria-Chania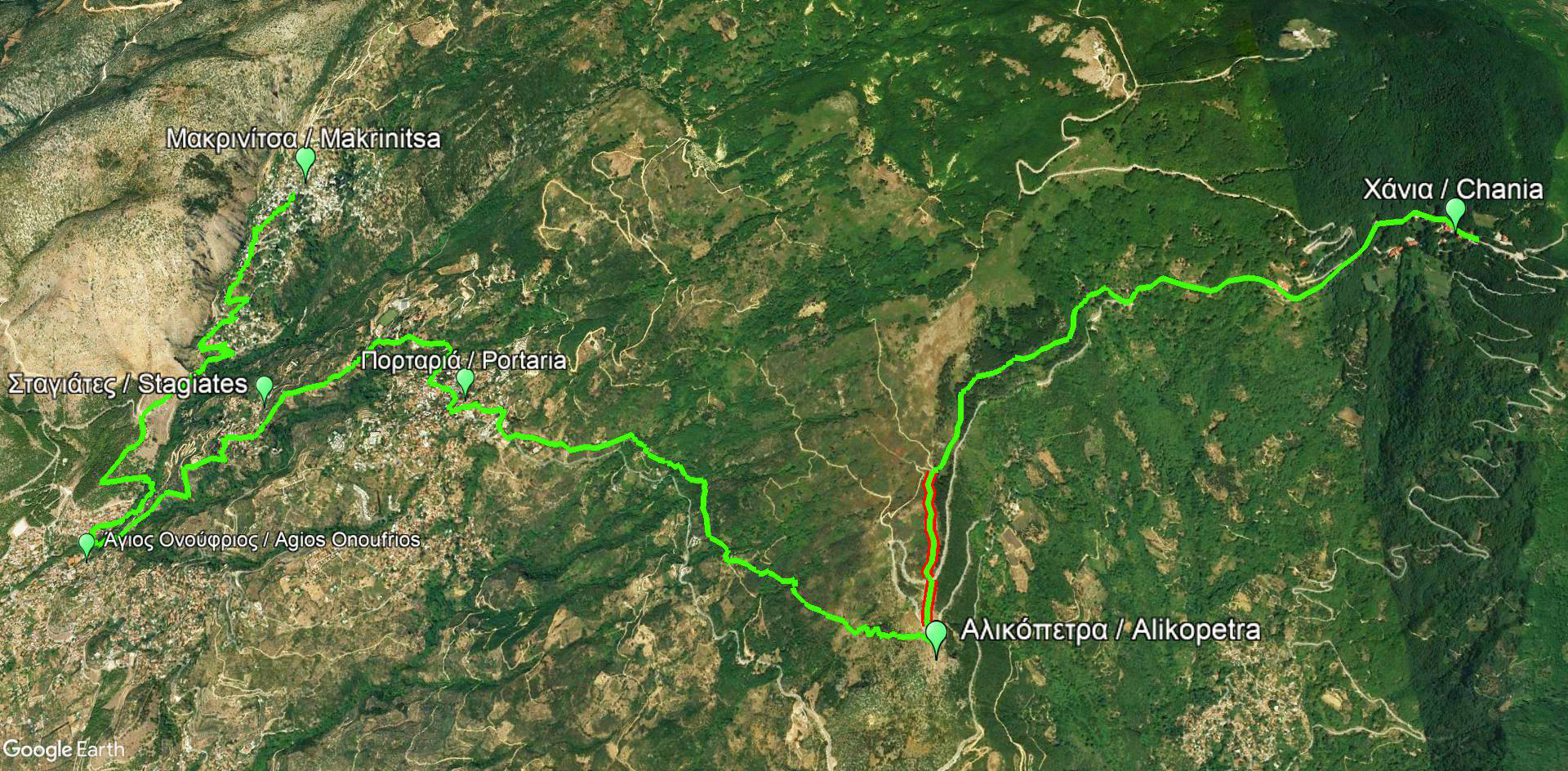 ×
Section name

Difficulty

Length
m
Ascent
m
Decent
m
Maximum
elevation
m
Minimum
elevation
m
Time
h
Makrinitsa-Agios Onoufrios-Stagiates-Portaria-Chania
1/5
16309
1085
692
1185
139
6-7

The fourth part of Long Pelion Trail (Makrinitsa-Agios Onoufrios-Stagiates-Portaria-Chania) is the most popular, soft and pleasant hike in the area of Pelion. Two of the largest and most visited villages of the peninsula, Makrinitsa and Portaria, are connected via this well-preserved and beautiful trail.
×
The trail crosses a vast area of different vegetation and terrain patterns, as well as various types of paths, such as well-maintained cobbled alleys in the heart of the settlements, as well as grasslands and mountainous forests.
Another intriguing feature of this part of LPT is that it covers a wide elevation gain, since we start our path from the upper neighborhoods of Volos, almost at the sea level, and ascend very close to the high peaks of the mountain, at an altitude higher than 1000m. This hiking route definitely offers a complete picture of the natural beauty and of the varied topography of Pelion.
Text: Aik. Zagaretou, photos: T. Adamakopoulos
Walkability chart-Warnings
Although a significant percentage of paved roads enter our route, the beautiful cobbled pathways and the earth paths soften the impression that we are walking in a densely populated area.
The whole route is marked with waymarking and direction signs of the Pelion Routes network and signs of the Ultra Pelion Trail.
The length of the route is 16.3 km and can be done in 6-7 hours.
Long Pelion Trail topoguide
The best escort on Long Pelion Trail is the guide Long Pelion Trail topoguide, a member of the Long Trails group of the app topoguide Greece, available for Android devices via the Google Play Store.

The guide Long Pelion Trail topoguide is also available for iOS (iPhone και iPad) devices via the app Topoguide Greece, as a member of the Long Trails group.

The application offers active navigation along the trails, as well as a concise guide on the geography, the nature and the culture of Mt Pelion.