E4 Trail: Christakis bivouac-Spilios Agapitos refuge
E4 Trail: Christakis bivouac-Spilios Agapitos refuge
E4 Trail on Mt Olympus

Christakis bivouac-Spilios Agapitos refuge
Text and photos by Triantafyllos Adamakopoulos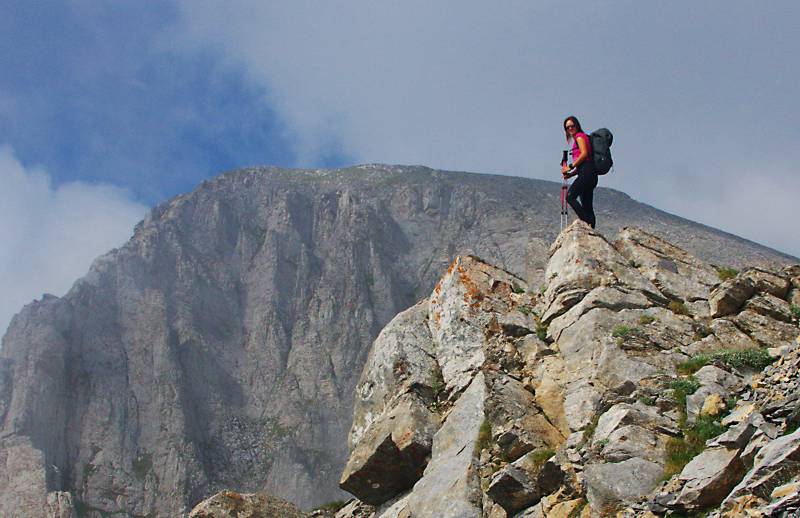 The E4 crosses Mt Olympus with three impressive sections, starting with the uphill Kokinopilos-Christakis bivouac route, continuing with the alpine trail Christakis bivouac-Spilios Agapitos refuge and concluding with the long and tedious descent Spilios Agapitos refuge-Litochoro. With one more leg, the Litochoro-Dion section, the E4 Trail leaves Mt Olympus.
The E4 section from Christakis bivouac to the Spilios Agapitos refuge starts from Laka Christaki plateau, hosting the Christakis bivouac and the adjacent Kalyva Christakis, an old shepherd's house which nowadays serves as an emergency refuge. The E4 climbs the smooth basin up to 2700 m mark, just below the Skolio summit.
The ascent of the concave western slope of Skolio peak runs on a well-trodden and well-marked path, which maneuvers up to the saddle between Skolio and Agios Antonios peaks. On the the saddle, we meet the starting point of greek National Trail
O2
, which starts from here its long course towards Mt Kissavos and Mt Pelion.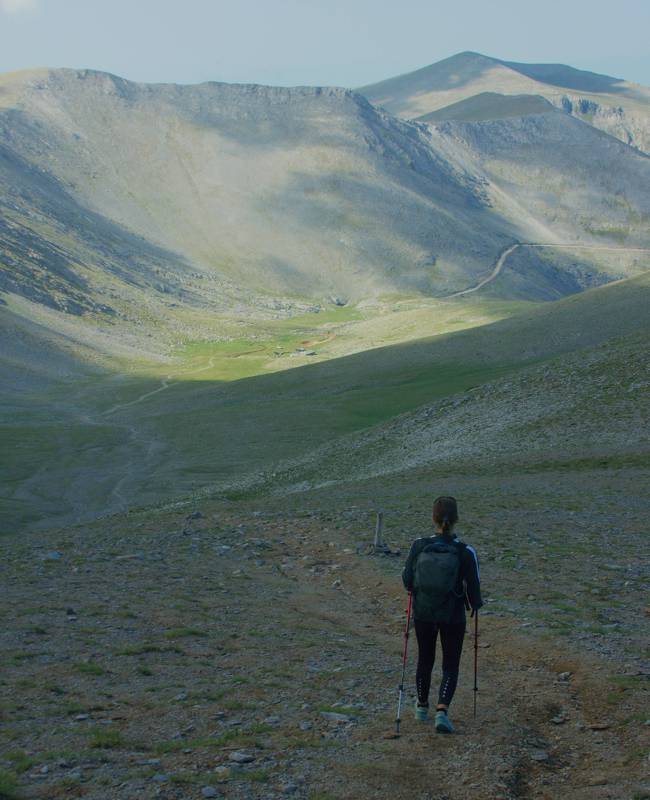 Before reaching the Skolio summit, traverse uphill to 2900 m, aiming the summit of
Skala
. On the top, there are signposts and marks indicating the direction of
Kakoskala
and the downhill track of E4.
While on
Skala
peak, one can deviate for a quick
ascent to Mytikas via Kakoskala
(45 min.). Most mountaineers leave their large backpacks in a safe place, in the first meters of the descent to Paramytikas, and continue with a light daypack.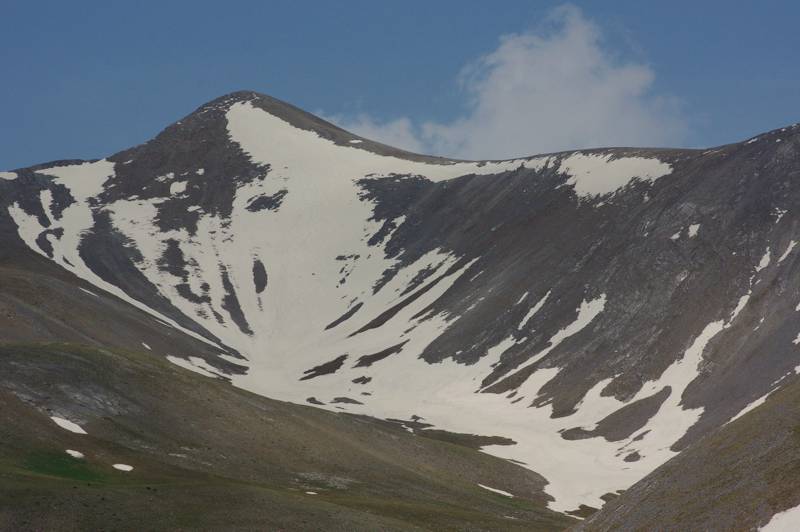 From Skala, walk down the long and well trodden path to the
fork of the Zonaria
. To the right, alpine meadows are hosted in the recessions curved by the action old glaciers. If we are lucky enough, we can spot in these meadows small herds of
feral horses
or
chamois
(Rupicapra rupicapra), cooling down themselves and have fun along the last snowpatches of the season.
From the fork of Zonaria, continue on more rocky ground, on a very good path. We cross the axis of
Chondromesorachi
ridge and with a last series of maneuvers, reach the
Spilios Agapitos refuge
, nestled on an impressive natural balcony.

×
---
A hiking and mountaineering guide to Mt Olympus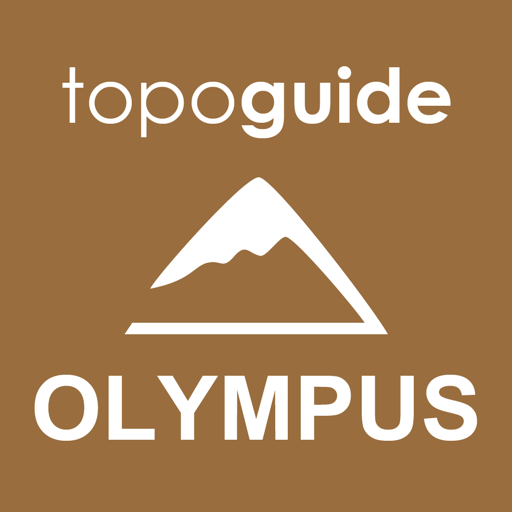 A detailed description of the E4 section from Christakis bivouac to the Spilios Agapitos refuge, with accurate metrics, linked to photos and POIS, is included in the hiking app Mt Olympus topoguide.

Mt Olympus topoguide field guide is available for Android devices via Play Store.

Mt Olympus topoguide is also available for iOS (iPhone και iPad) devices as an in-app purchase via the hiking application Topoguide Greece.

Mt Olympus topoguide field guide offers detailed off-line hiking maps. Once in the terrain, the app provides active navigation along the trail, helping the hiker to stay on route and reach the destination, even under adverse conditions.