Refuges of Mt Olympus
Text and photos: T. Adamakopoulos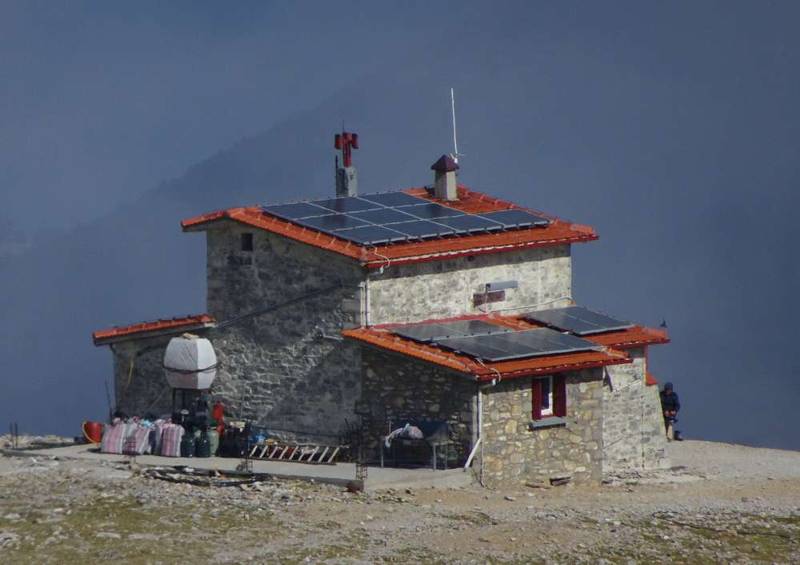 Mount Olympus is the best equipied Greek mountain in terms of mountain refuges. There are refuges, most of which are guarded. There are also bivouacs (small non-guarded shelters), in most cases open to mountaineers.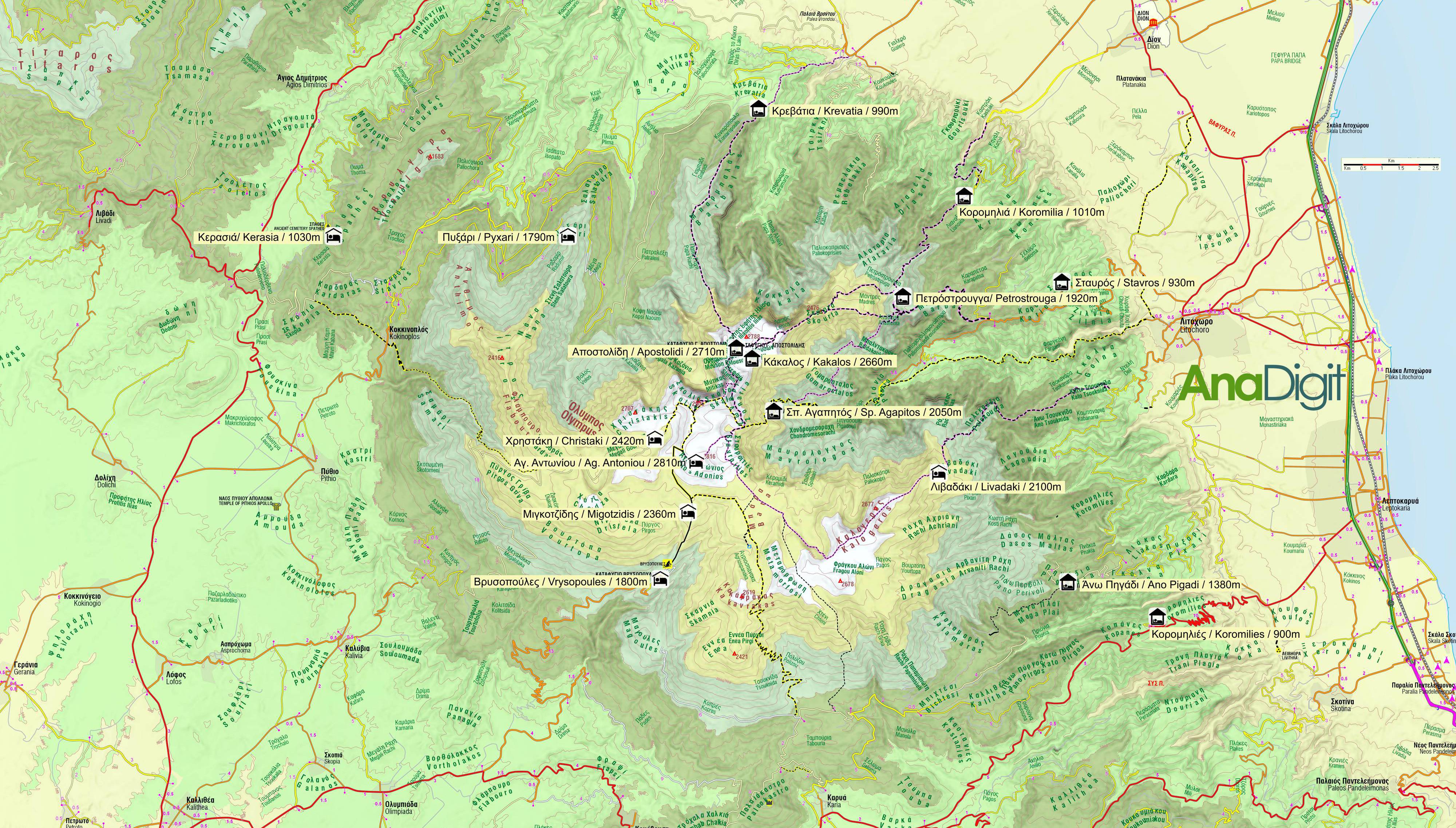 ×
Beside to the interactive map of the Olympus refuges found at the end of this page, AnaDigit offers a thematic map of the Olympus refuges/b> for viewing and direct download. Click (or tap) on the image above to enlarge the map, or download it here. The map is high resolution and can also be used as an orientation map.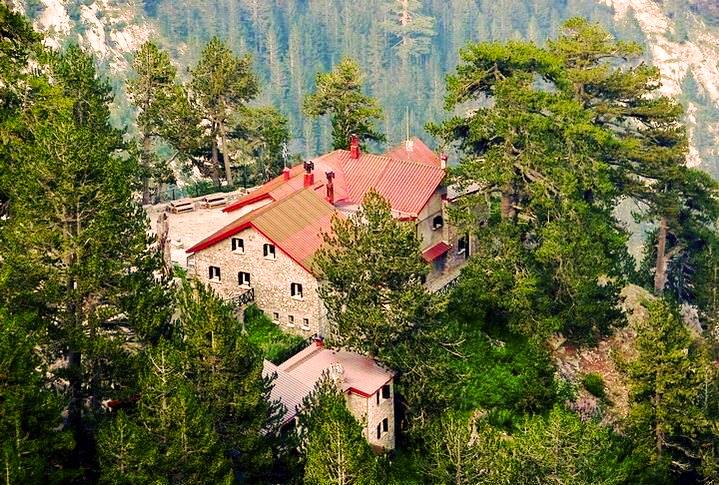 The guarded refuges are located on the main pathways to the peaks. The two most famous refuges on Mount Olympus are located on the Muses Plateau: the small refuge Christos Kakalos - dedicated to the first Greek to climb Mytikas - and the very important, large refuge Giosos Apostolidis.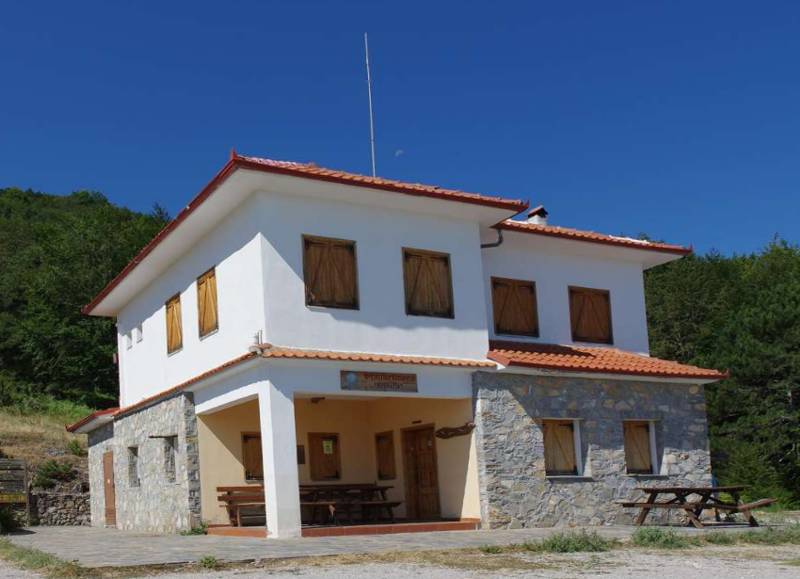 Even more popular is the refuge Spilios Agapitos, on the main path from Prionia to the peaks. This large shelter, managed by the Zolotas family for many decades, hosts thousands of mountaineers each year.
At the eastern gates of Mt Olympus, at the Stavros location, on the asphalt from Litochoro to Prionia, lies the refuge Stavros (bearing also the name of D. Bountolas, a local mountaineer killed in the Himalayas). To the west, the large refuge in Vrysopoules, although found inside the camp of the Hellenic Army Alpine Training Center (KEOACH), belongs to the Hellenic Federation of Mountaineering and Climbing (EOOA) and can accommodate mountaineering teams.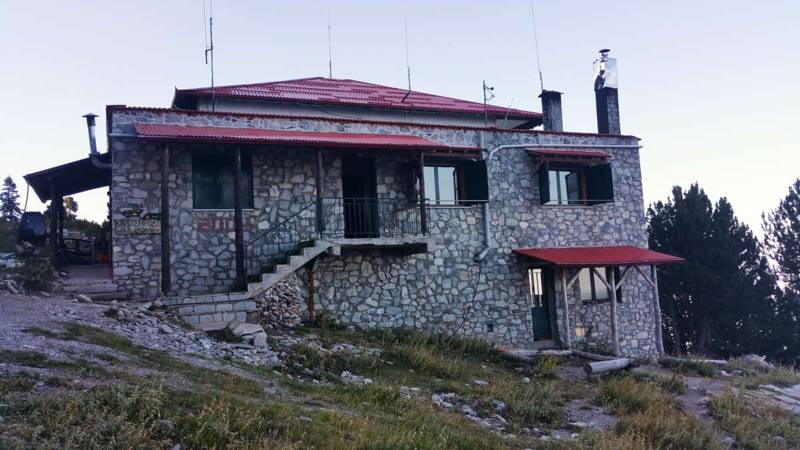 In addition to the above old refuges of Mt Olympus, in last decades new shelters have been built and are operating in Krevatia (on the ridge of Barbala), Koromilia and Petrostrouga (on the main path to the Muses Plateau).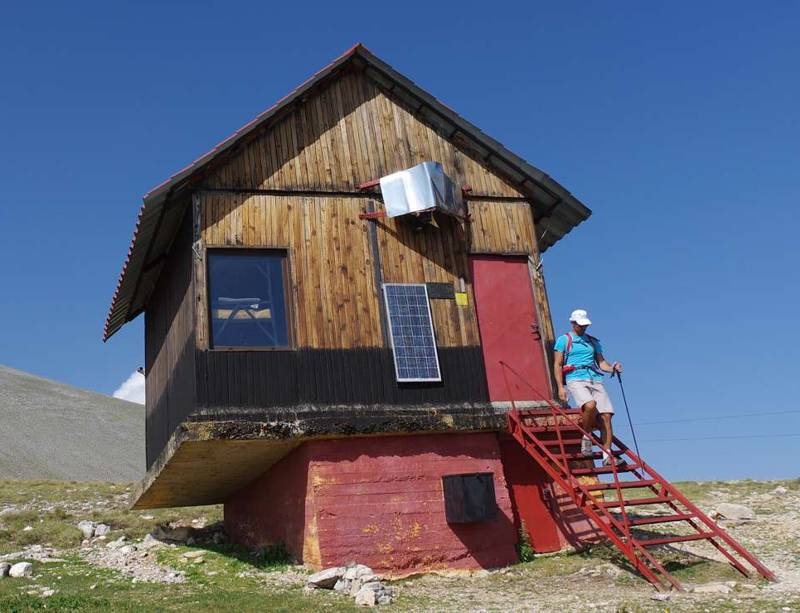 From the Olympus bivouacs, the most popular are the so-called Hut of Christakis (two buildings, one closed), the old university observatory on Agios Antonios summit and the small but hospitable shelter K. Migotzidis, at the foot of Agios Antonios peak, allways open and serviced by the personnel of the military camp.
Somewhat secluded, the old fire watchtower in Pyxari has been turned into a small emergency shelter and can be useful for mountaineers crossing the remote area between Kitros and Xerolaki ravine.
The small shelter in Livadaki is also open and can support the mountaineers wandering in thie remote zone of Mt Olympus.
The refuge in Ano Pigadi and the refuge in Koromilies are closed and can be used after contact with the relevant associations.
Refuges of Mt Olympus
A detailed cartography, all access paths, photos and descriptions of all Mt Olympus refuges are included in the application Olympus topoguide.

The field guide Olympus topoguide is available for Android devices by Play Store.

The field guide Olympus topoguide is also available fro iOS (iPhone and iPad) devices as an in-app-purchase through the general hiking application Topoguide Greece.