Hiking in Serifos
Serifos maintains many of its old trails, which were preserved during the development of the road network. Part of these paths has been organized into a network of hiking trails that, without reaching the wealth of Tinos or Sifnos - much larger islands, after all - offer clean landscapes, a vibrant nature and a sense of freedom, reserved to the non touristic islands.
Trails 1, 1a, 2, 3, 4, 5, 6 and 10 are signposted and clear - keep in mind however that last maintenance was in 2013. Trails 7, 8 and 9 have no markings and locally present some viability problems.
In addition to these trails, there are many more paths that, in combination with a bit of dirt roads, can create nice hikes.
For some of these trails, a taxi from Livadi can be very useful. Prices are rather friendly for a group of 4 people.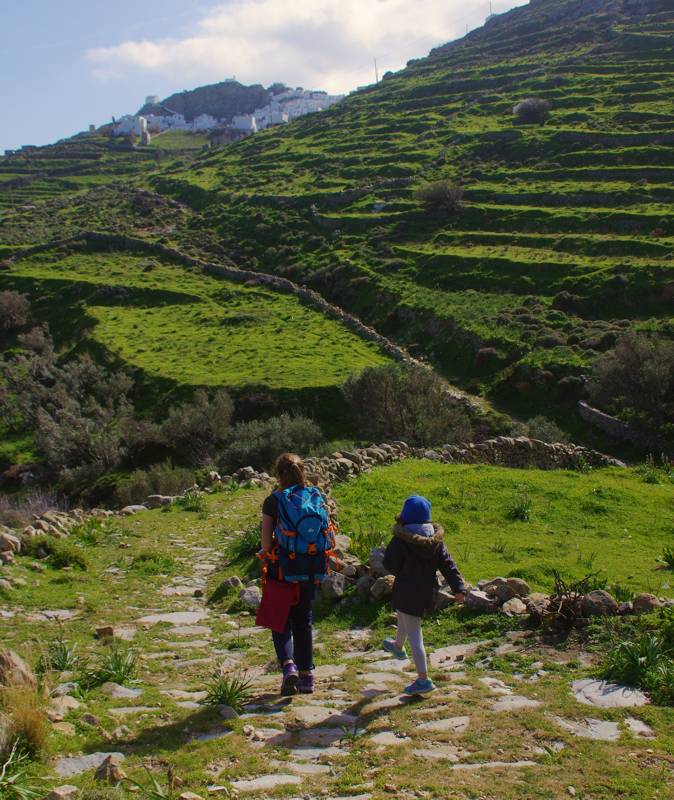 Trail 1: Chora-Kallitsos. This beautiful route follows the old mule track from Chora to Kallitsos. Much of the trail is wide and stone-paved. It is one of the three best routes of the island, especially if you make it to Kallitsos-Chora direction, more relaxing, with Chora gradually approaching with all its splendor. Fairly well waymarked.


Trail 1α: Chora-Livadi. The wide pathway from Chora to its port. Of course you will make it downhill, passing Piazza and then through the narrow alleys of Chora, before entering the easy towards Livadi. A great walk for the whole family. Fairly well waymarked.


Trail 2: Chora-Gyftika. Another route worth going downhill for the spectacular views of Chora. Take a taxi from Chora to lead you to the turn before the heliport and go downhill, enjoying the view of the most beautiful "Chora" of the Cyclades. Fairly well waymarked.


Trail 3: Akonidia-Koutalas. An easy downhill route, leading to the beautiful beach of Koutala. Part of the route follows the pathways of the old iron mines. Fairly well waymarked.


Trail 4: Gyftika-Protorgia-Panagia. A trail offering a nice view. At first go slightly uphill and then continue on an easy downhill dirt road, crossing the bare ridge of Troulos. After Protorgia, go down to Varsamos and then to Panagia, through a zone of endless terraces. Fairly well waymarked.


Trail 5: Panagia-Sykamia. The shortest way to get down from Panagia to Sykamia, following a great ravine. Cross the stream with a concrete bridge and run through the agricultural area of Sykamia and end up in the beautiful sandy beach. Combined with Trail 6, this route it creates a very enjoyable and wasy loop trail. Fairly well waymarked.


Trail 6: Pyrgos-Galani-Sykamia. The well-trodden path promises a smooth downhill course. Passing through Galani and reach the eastern part of the plain of Sykamia. Combined with Route 5, this hike composes a beautiful loop trail between the Panagia-Sykamia dipole. Fairly well waymarked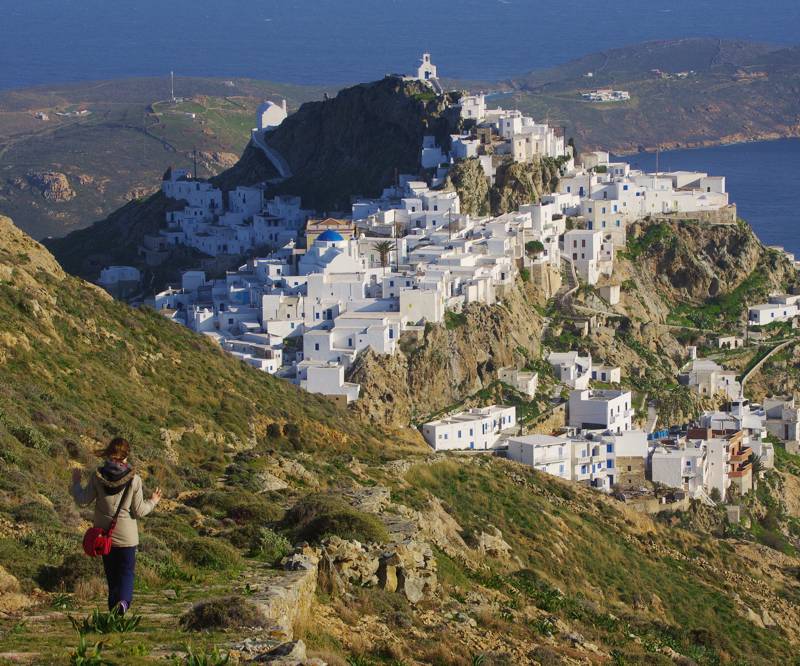 Trail 7: Sklavogiani-Agia Thekla-Kefala-Pyrgi-Sykamia. Although it has some viability problems, Route 7 can be done relatively easily. It uses some dirt roads and passes through interesting landmarks of northern Serifos, such as the chapel of Agia Thekla, the ancient tower in Kefala and Agios Georgios Viglis. Not waymarked.


Trail 8: Liomandra-Avessalos. The trail is walkable only at its lower and upper part. In the middle, vegetation has begun to close the old route. Not waymarked.


Trail 9: Livadi-Agios Panteleimon. Once one of the most important pathways on the island, this route now has some local viability problems. However it is feasible, especially in the downhill direction. Not waymarked.


Trail 10: Kallitsos-Xiro Chorio-Triantafyllos-Kallitsos. A nice loop trail, starting from on Kallitsos. Climb up to Xiros Chorio, where some houses have been renovated, pass over the Chrysolora winery and descend to the settlement of Triantafyllos. The return way includes an asphalt section. Fairly well waymarked.