Springs and fountains of Kea
Springs and fountains of Kea
Springs and fountains of Kea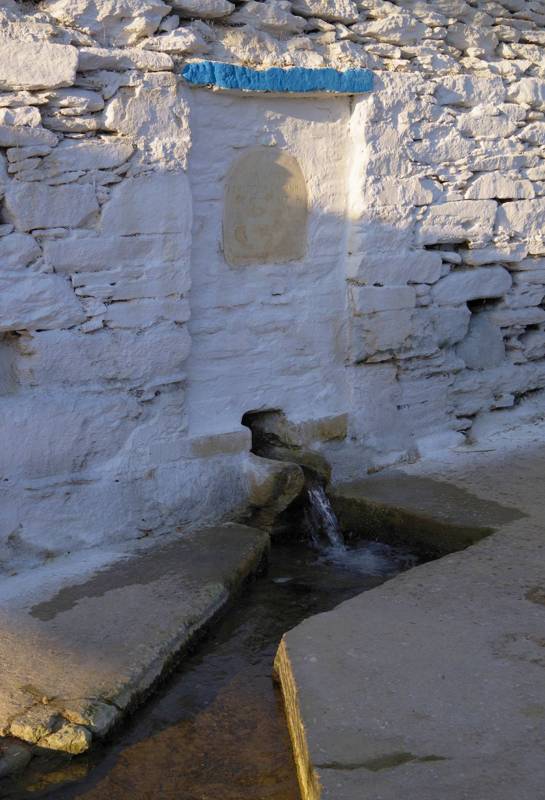 Compared to other Cycladic islands, Kea has several and important springs.
A group of remarkable springs lies around Ioulida and apparently it has been the main reason for the establishment of the settlement: these are the springs that feed the large fountains around the settlement (fountains of Veniamin, Roukounas, Agios Konstantinos, Karamanis, Pyrgi and Myloi), but also the taps in the neighborhoods, through a network of clay pipes. Every fountain had been a small functional complex, with a series of troughs for watering the animals, the sheltered laundry room with "tubs" and fireplace and many times a roof for protection. Typically, the water was running off into ditches and irrigated downstream gardens with fruit or vegetables.
Outside Ioulidha, the most important spring is the Flea, which feeds a constant flow stream and used to move the watermills of Mylopotamos.
Other notable springs are the Three Maderika, the Sotira, the springs of Karthea (Kalodhouka and Vathypotamos fountains), the Diasheli in Otzias, the spring of Agioi Anargyri in Ellinika, the spring at Veladho and finally the small but valuable spring Vrises near Aghios Symeon.
Photos and descriptions of all fountains and springs of the island are included in the application Kea topoGuide. The application is available for Android devices as well as for iOS devices (iPhone and iPad) by AnaDigit.