Discover Skiathos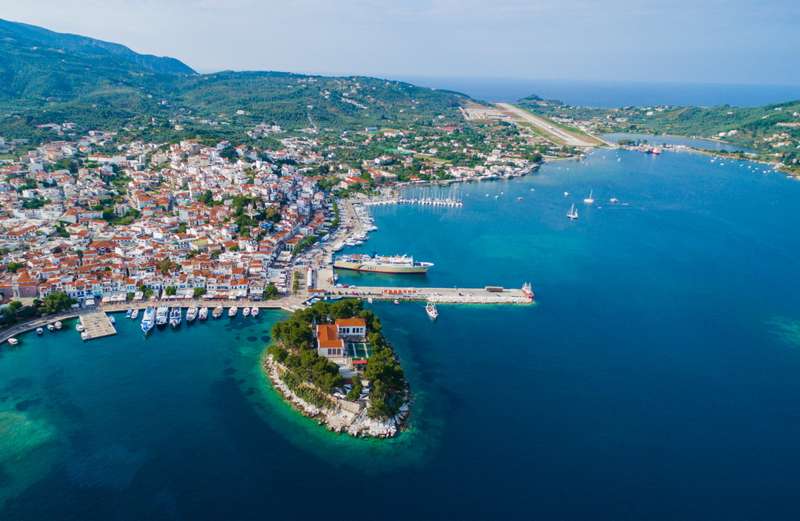 Skiathos, the greenest member of the Sporades island, is the closest to the mainland, the peninsula of Magnesia, land of the group. Skiathos has an area of 48 sq. kilometres and hosts about 6.600 inhabitants.

The island has been inhabited since prehistoric times and has always been called Skiathos. Despite its large size, it has only one and relatively newly created urban center, the town of Skiathos: the town has been built in 1829-1830 at the southeastern end of the island, on the very location of the ancient town. The initial settlement lies at the western end of the modern city, and with its narrow cobbled streets connecting the neihboghoods and its traditional two-storey houses, overlooks the lee bay of the harbour.

The harbour is divided into two parts by a small but pronounced peninsula, called Bourtzi. Bourtzi used to host a fortress, walled with ramparts and battlements, as well as two round towers to the right and left of the gate. The fortress was destroyed in 1660, yet hosted the first plague hospital of the island in the mid-19th century. In 1906 a primary school, donated by Andreas Sygros, was built inside the walled area. The building serves today as a cultural centre.

In front of the entrance of the harbour there are several small islands such as Mikros Tsougrias, Megalo Tsougrias, Maragos etc.
In the town of Skiathos, one can visit the perfectly preserved house of Alexandros Papadiamantis, a reknown Greek writer born here in 1851. Papadiamantis lived and died in Skiathos, and consequently his work was deeply influenced by the island's nature and culture. His house has been turned into a museum. Skiathos is home to other scholars such as Alexandros Moraitidis, Georgios Rigas etc.
There are several old churches and monasteries on the island.
The island has a rich vegetation: most of its surface is covered by pines.
Skiathos is famous for its beaches, the most popular being Koukounaries, Banana, Megali Ammos and Little and Big Aselinos. Near Koukounaries beach there are two small lagoons, Agios Georgios lagoon and that of Strofylia lagoon.