Hiking in Areopoli
Hiking trails in the Areopoli area have as their start points the settlements of Oetylo, Areopoli itself, Pyrgos Dirou, while another route ends at Mezapos.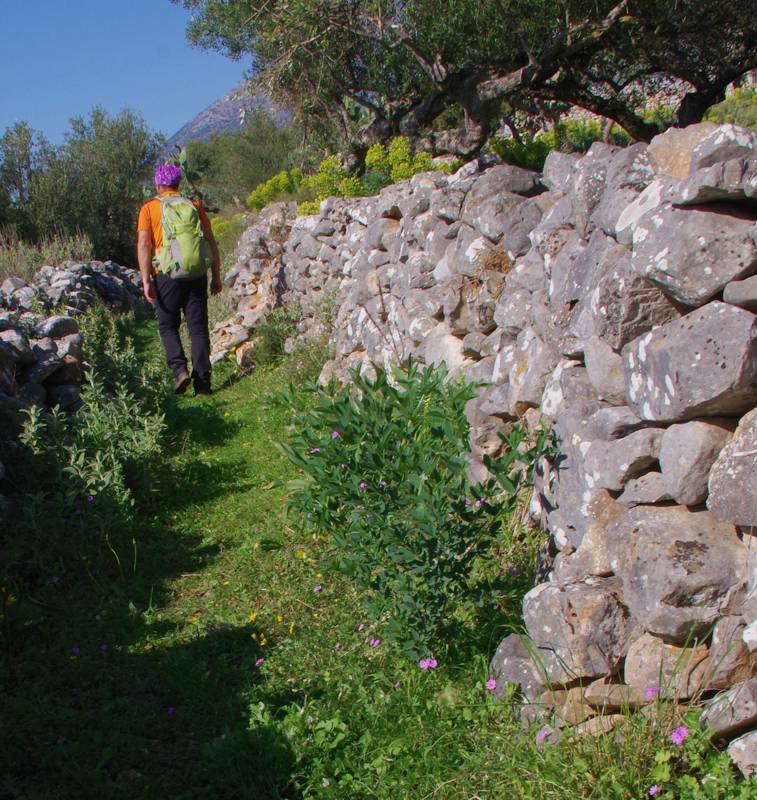 Hikes around Areopoli
The hiking trails around Areopoli are the best maintained of the whole area. The most popular is the relatively long but very enjoyable route from Areopoli to the Kelefa Castle (from where you can call a taxi). The Areopoli-Omales-Diros beach is only feasible by a variant following the cement road, while the trail from Areopoli to Xepapadianika is virtually completely closed.

Areopoli-Limeni
(L= 2881 m)

Areopoli-Kelefa castle
(L= 5899 m)

Areopoli-Xepapadianika
(L= 4813 m)

Areopoli-Diros
(L= 4897 m)

Areopoli-Sotiras
(L= 3010 m)

Sotiras-Profitis Ilias
(L= 1678 m)
Hikes around Oetylo
The hikes around Oetylo are relatively well-trotten. The deviation to the monastery of Decoulon is interesting. The ascent from New Oetylo to the castle of Kelefa follows a newly opened earth path.

Neo Oetylo-Kelefa castle
(L= 1116 m)

Kelefa_Spiliotisa monastery
(L= 1790 m)

Oetylo-Neo Oetylo
(L= 3580 m)
Hikes near Pyrgos Dirou
The hikes around the Pyrgos Dirou present some short or longer section closed by vegetation. The only clean path is the classic ascent to Profitis Ilias Dirou.

Ascent to Profitis Ilias, Diros
(L= 4113 m)

Pirgos Dirou-Triantafylia
(L= 2893 m)

Eastern Mani, Pyrichos-Profitis Ilias
(L= 6726 m)

Eastern Mani, Agrilia-Profitis Ilias
(L= 5175 m)

Eastern Mani, Pyrgos Dirou-Xepapadianika
(L= 3390 m)
Hikes to Mezapos
The long hike from Agiadaki to Mesapos cannot be concluded on the old trail: some sections are clear, while in others the hiker has to walk through the olive groves.

Mezapos, Agiadaki-Mezapos
(L= 4530 m)

topoguide Greece
Self-guiding in Mani peninsula
All the above hikes are included in Areopoli topoguide.

Areopoli topoguide is available for Android devices as one of dozens of regions of Greece offered by the application topoguide Greece. Get the Areopoli topoguide as an in-app purchase.

Areopoli topoguide is also available for iOS (iPhone και iPad) devices as one of the regions offered in the hiking application Topoguide Greece. Get the in-app purchase Areopoli topoguide and explore Mani peninsula.