Mt. Menalon rises in the center of Peloponnese and is surrounded by the large plateaus of Mantinia and Tripoli and the rivers of Alphios and Lussios. The summit of Ostrakina (1981 m) is the highest point of Arcadia. Mt. Menalon to the east connects to the mountain ranges Oligyrtos, Trachy, Lirkio and Artemision, to north adjoins Mt. Chelmos, while to the southwest touches Mt. Minthi and Mt. Lykeo.
The biggest part of eastern Mt. Menalon, where the the highest peaks of the mountain are located, as well as the western part, with its lower and smoother terrain, is covered with fir forests. The monotonous landscape of indistinguishable limestone slopes with its dense or sparse fir forest is interrupted by several large hollow glades, called swallow holes whose size and dispersion is characteristic of Mt. Menalon.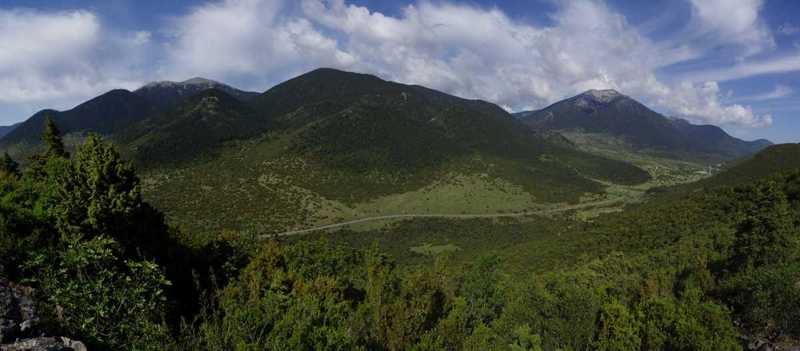 Hundreds of kilometers of hiking routes zig-zag across Mt. Menalon, a good part of which were included in the Menalon Trail. Menalon Trail is a 75km long mountain traverse, that starts from Stemnitsa and goes through Lousios River ravine, the western slopes of Menalo Mt., the valley of Mylaon River and ends at Lagadia.

The most complete hiking guide for Menalon Trail and the wider area of Mt. Menalon is the application topoGuide Menalon Trail which covers the 8 sections of Menalon Trail, as well as 9 more interesting trails. The app provides very detailed off-line maps, accurate tracks, rich descriptions and dozens of photos for each one of the trails.
One of the most interesting sections of Menalon Trail is described in the application Hiking in Peloponnese. This is a digital tour guide that includes 17 hikes covering the entire Peloponnese.