Elafonissos Island is part of the western arm of the horseshoe defining the Neapoli bay, in southern Peloponnese. The small island is facing the eastern side of the bay, materialised by the massive promontory of Malea. The western side of the bay was, in antiquity, was united to the land and constituted a real peninsula that enclosed the open yet sheltered bay of Neapoli, one of the best known sea refuges for the ships sailing the channel between Cape Malea and Kythera Island.
As a peninsula Elafonisos was named Onou Ghnathos, referring to its resemblance to a donkey jaw. At the base of the "jaw" and around Pavlopetri islet, an important city prospered in prehistoric period, now submerged by the sea.
The main morphological characteristic of Elafonisos is its mild terrain. The highest point is the peak Vardia, 276m, other high points are Varditsa, 144m, Vigla, 134m and Silos 178m.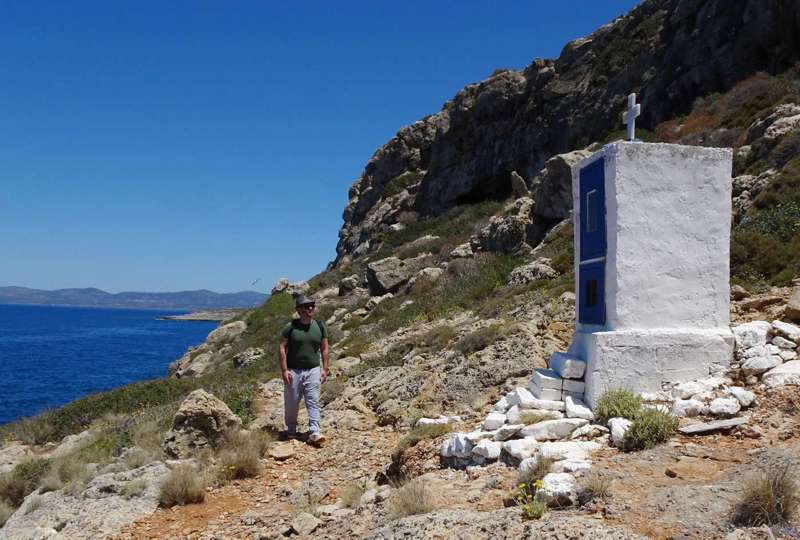 Despite the small size of the island, in a common effort of the Municipality of Elafonisos and local associations, undertaken by OnTrail, six hiking trails and three cycling routes were identified. The 9 routes are included in the application Elafonisos topoGuide, developed by AnaDigit, under the initiative of the Association of Hotel and Room Owners and with the support of the Municipality of Elafonisos, the Association of Scientists of Elafonisos and Cosmocert company.
The ancient settlement of Pavlopetri is located on the seabed between the beach of Pounta and Pavlopetri island, at 600 m. NNE from the port of Elafonisos.
This city is unique, as it has been kept intact, protected by the sea: its whole city plan with the roads, the buildings and a cemetery were well preserved. Fifteen buildings have been recognized and it is estimated that the entire settlement covers one acre.
Newer research in 2009, using techniques Sonar, contributed to more accurate mapping of the city. It is the first sunken city that was rebuilt in 3D digital model. A documentary on the 2009 survey was created and aired on BBC2 in 2011. Watch the documentary here: